Strong, Elegant, Built to Last
Blackwood Equestrian Stalls is a custom horse stall builder dedicated to precision craftsmanship, high-quality materials, and the safety and comfort of your horses.
As the preferred horse stall manufacturer of B&D Builders, we have more than 20 years of experience in equestrian projects — but we also understand that no one knows your horses better than you do. Our expertise meets your expectations to create one-of-a-kind equestrian products that are as sophisticated as they are durable.
Strong, elegant, and built to last — Blackwood builds custom stalls, barn doors, and entrance gates that have a lot in common with your horses.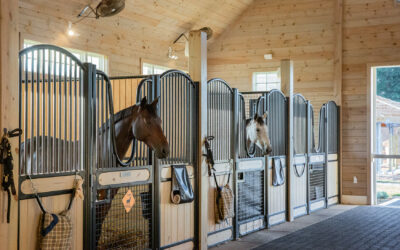 Your horses deserve the very best care, and keeping their stalls clean and dry is one of the most important things you can do to keep them healthy and comfortable. Horses spend a lot of time in their stalls, sometimes lying down at night to sleep. If their stalls are...


14 N Ronks Rd, Ronks, PA 17572   |   717.687.7313
Blackwood Equestrian Stalls is American owned and operated.
Our products are proudly crafted in Lancaster County, Pennsylvania.
© 2021 BLACKWOOD EQUESTRIAN STALLS. All rights reserved. Site created and managed by the strategic
brand positioning and marketing communications firm Alpha Dog Advertising. Sitemap  |  Privacy Policy