Horse stalls provide a safe, comfortable haven, a place for your horses to relax and take shelter from the elements. With equine stalls playing such an important role in keeping your horses healthy and happy, building custom horse stalls to meet their needs is a smart decision — and Blackwood Equestrian Stalls can help.
Our Equine Manufacturing Expertise
Over the years, we've worked on countless projects for equine riding and training centers, boarding and breeding facilities, and more. Thanks to our experience working with equestrian barn owners, architects, and designers, we can help create the perfect equine facility for you.
Custom horse stalls can be designed to fit any barn size and style — from a small residential barn to a world-class equestrian training center, from traditional country style to a more modern look. Not only will custom horse stalls from Blackwood look great, but you can be sure they will be high quality and suit your — and your horses' — specific needs. We'll work with you, listen to your needs and preferences, and make recommendations on what will work best, drawing on our years of experience.
How to Start Customizing Your Horse Stalls
To start, we'll consider the dimensions of your overall space, the amount of time your horses spend in their stalls, and your horses' dispositions. This helps to determine the size of the horse stall, as well as if a high or low stall front is appropriate. A general rule of thumb is that a stall should be large enough for a horse to be able to lie down and move easily without touching any of the stall walls.
And speaking of horse stall walls, you have options here too. Metal fabrication can be used to create stall partitions that are both functional and beautiful. Building half a solid wall with bars on top is a popular choice in custom horse stalls. The partially open top allows air flow, and horses can see their stable mates, providing socialization and alleviating boredom. Solid partitions can make insecure horses anxious, but they can also provide a quiet, restful space. The temperament of your horses plays a key role in deciding which type of horse stall partitions to use.
Hinged Horse Stall Doors or Sliding Doors?
In addition to partitions, stall doors can be highly customized using metal fabrication. The first thing you may want to consider is whether you want a hinged door or sliding doors. Hinged horse stall doors allow for a more unique style, with curves and other tailored design features, whereas sliding horse stall doors tend to provide a more traditional look.
If you're thinking of adding hinged horse stall doors, make sure your barn aisles allow enough room for them to open comfortably. When they're open, hinged doors can cut down on the space you have to maneuver, although they can be latched open to help with this. The latches and heavy-duty hinges on this style of stall door offer another opportunity for custom metal fabrication to suit your style.
If aisle space is at a premium, sliding horse stall doors may be a better choice for you. In addition to metal door hardware such as latches and door pulls, this style of door also requires an overhead track and a floor-level guide and stop to keep it in place. In addition, horse stall doors of either style typically include a steel grill insert that provides visibility and ventilation. At Blackwood Equestrian Stalls, we can do it all.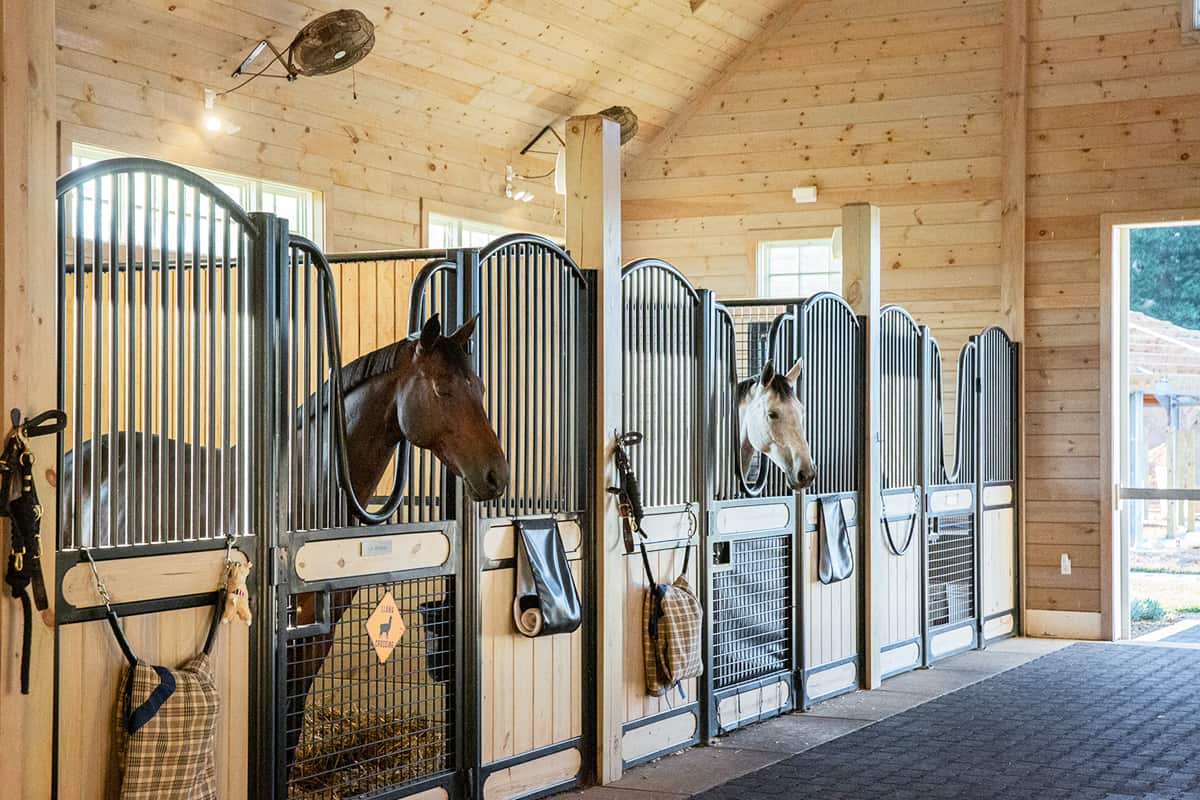 Finishing Your Custom Horse Stalls
Getting back to barn hardware for a minute, our door pulls, latches, screens, gates, and other custom pieces add the perfect finishing touch to your custom horse stalls and other equine projects. From basic to more ornate designs, your custom barn hardware will not only look great but function well too — and it can make your life easier. For example, door latches and other pulls that can be operated with only one hand are lifesavers when you're trying to complete your barn chores.
One more item to consider is powder coating. When creating horse stalls, we typically use steel or aluminum, depending on the strength of material called for. These metals can be powder coated to provide a smooth, uniform finish and long-lasting protection from the effects of moisture, UV light, and more. And what's more, powder coating is available in a wide variety of finishes, including high gloss, semi-gloss, and matte in just about any color you can imagine.
No matter the equine structure you're building custom horse stalls for, Blackwood Equestrian Stalls is the full-service metal fabricator for your custom requests. We provide 2-D and 3-D designs, rendering services, creative design advice, fabrication, and finishing to ensure the functionality and style you're looking for.
Don't just take our word for it, though. Check out our products for just a few examples of our equine manufacturing expertise. Ready to get started? Contact us today!